We built a new house about 20 miles away from our former location, so the Virginian will have a new home in a couple of years.
The house is round (actually, it has 18 sides – an octadecagon) with a full walk-out basement. The floor plan below shows the train room in blue. The three windows measure 18" x 72" and are 7' above the floor, so they won't interfere with the layout.
Scroll down to see the latest layout design, and a 3D view as well. Everyone is welcome to suggest layout themes and track plans.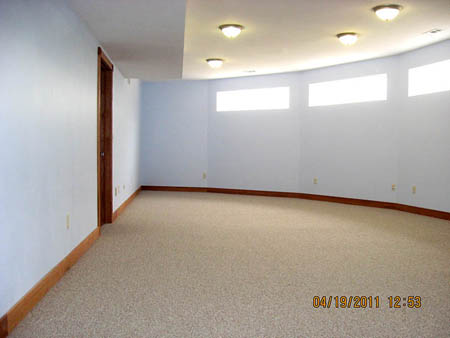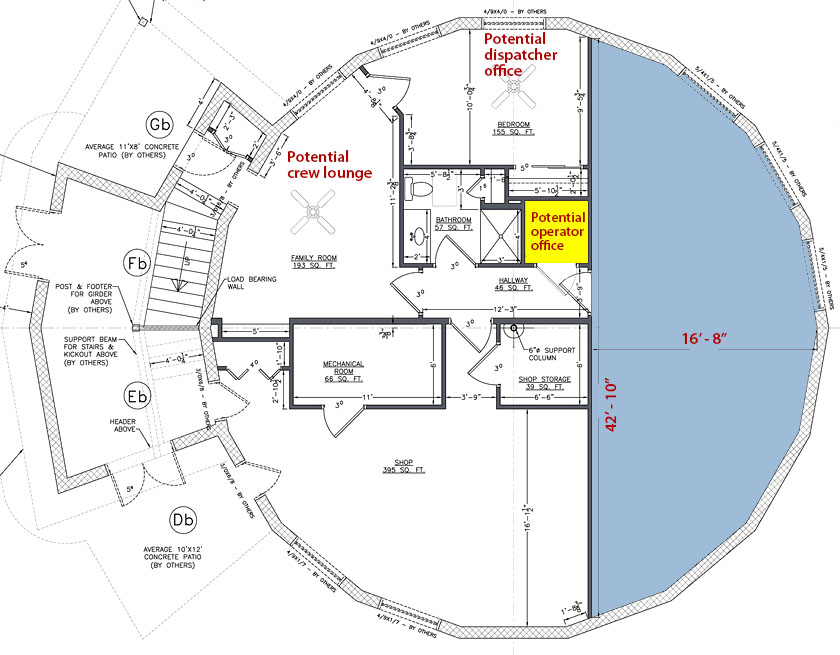 ---
An article by Joe Brann in the Layout Design SIG's Journal #43 describes a method of making strong lightweight benchwork from thin lauan plywood braced like a Warren truss bridge. This is a wonderful idea. I bought a 4'x8' sheet ($10) and cut it lengthwise into 2" strips, then made a small section of benchwork to test the ease of construction and the resulting strength.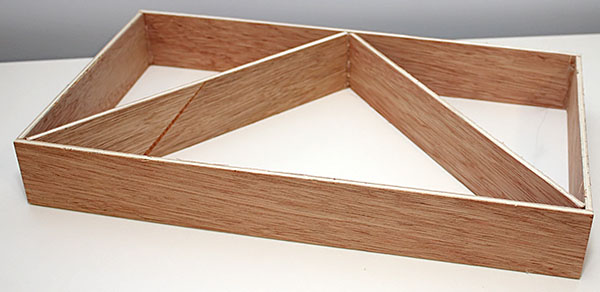 It's great! This test section is only 14"x8" (¾ square foot), but it is very rigid and weighs less than half a pound. The long unbraced side flexes a little, and this would be a concern on full-size sections, but additional bracing would reduce flexure significantly. I used hot-melt glue for this test section, and it works well.
I'm very encouraged by this test, and plan to make all my benchwork like this. I can build "curved" benchwork by gluing short segments of the strips to follow track curves, with a radial brace at every joint, such as this test section.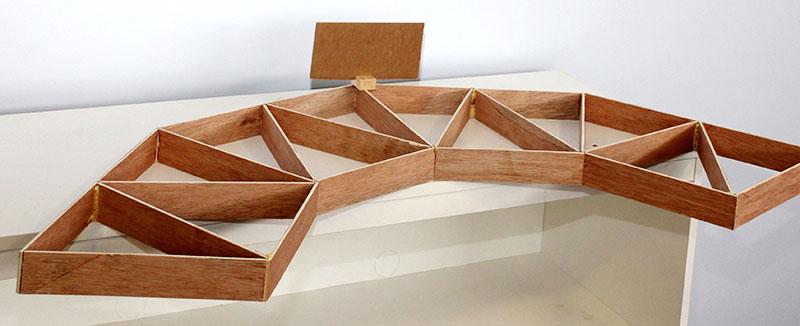 Truss benchwork is amazingly lightweight and strong. This entire section weighs only 1¾ pounds, yet can be held aloft by a single truss on one end, as seen here.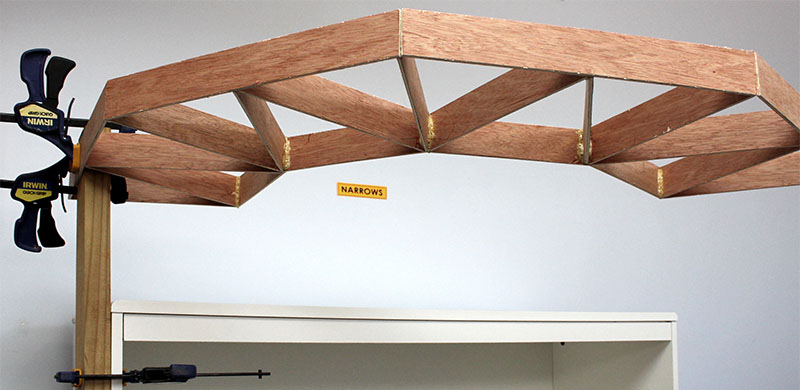 Truss benchwork is very economical. One $10 sheet of plywood yields enough 2" strips to make eight curved sections of this size, or six straight sections 8' long by 14" deep. So a 32-square-foot sheet makes 56 square feet of truss benchwork (more or less, depending on the shape and number of trusses).
---
This photo is a mock-up of how I plan to install a backdrop on the layout. The backdrop will be a single free-standing sheet of 1/8" hardboard (e.g., Masonite®) 24" tall inserted into a slot on small blocks of wood glued to the top of the benchwork. The slot will be narrow enough to create a very tight fit for the backdrop, holding it securely in place. Glue will reinforce the joint. The wood block will be below scenery level, so it will be hidden.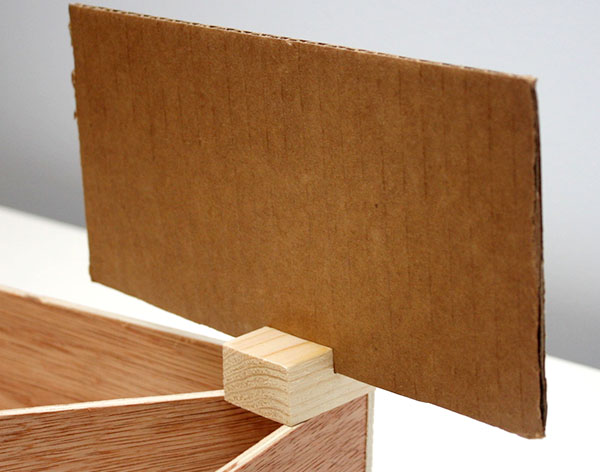 The hardboard will bend easily to conform to track curves, especially if moistened first. Photographic scenes will be glued to the hardboard, or landscapes will be painted directly onto it. View blocks that divide benchwork with facing towns, such as at Pepper/Pembroke or Klotz/Roanoke yard and along the folded peninsula opposite Celco (see the plan below), will have scenes applied to both sides. In other words, the entire view block will be 1/8" thick.
Along walls, small tabs on the rear member of the benchwork will hold the hardboard in place against the wall.
---
| | |
| --- | --- |
| Givens | Comments |
| HO scale. | |
| Virginian Railway, circa 1954. | I know quite a bit about the Virginian, and I don't especially want to start from scratch researching a different railroad. Plus, I want to use my extensive collection of Virginian locomotives and rolling stock, not buy new equipment. |
| Minimum radius, mainline: 28" with easements. | Broader curves preferred where space permits. |
| Minimum radius, staging: 28". | So locomotives that can navigate mainline curves won't encounter problems in hidden staging. |
| Minimum radius, yards and industrial: 26". | |
| Minimum turnout: #5. | |
| Maximum benchwork depth: 18" to 20". | |
| Minimum aisle width: 24" with short 20" pinch-points if necessary. | |
| Minimum aisle width at towns: 28". | |
| No duck-unders. | |
| Point-to-point operation – no continuous running | |
| Consistent direction of travel. | East is always to the right when facing a scene, and west is to the left. |
| "Sincere" track plan. | Trains run through each scene only once. |
| Staging yard size: Minimum 3 tracks per yard. | |
| DCC, walkaround control with radio throttles. | |
| Timetable and Tain Order (TT&TO) operation. | |
| Duthers | |
| Two staging yards. | Staging yards can be hidden, partially-hidden, or visible. |
| Long runs between towns to maximize TT&TO potential | |
| Single level. | Two levels are aceptable (with a helix) if such a design offers major benefits over one level. |
| Roughly 60%-70% emphasis on general-merchandise freight rather than coal. | Even though 80% of VGN traffic consisted of coal hauled out of West Virginia, I find general-merchandise traffic more interesting because it offers greater opportunity for local switching, classification yards, as well as a wider variety of "eye candy." However, one can't model the Virginian without including coal traffic, so coal should still be significant. I just don't want coal to be the main (or only) theme. |
| Staging yard design: Double-ended if possible, but stub-end acceptable. | A double-ended yard eliminates backing-out trains to restage between sessions, but raises other issues concerning entrances to the modeled portion of the railroad. For example, the far end might loop around to the near end to enter at the same point, but this increases the hidden running time, which makes crews nervous.It might be possible to put both yard throats near the single entry point, but this might consume significant space. |
| Mix of rural and city/town scenes. | |
| Roanoke engine teminal should intefere as little as possible with the classification yard. | Although the yard crew and cews hostling engines will need to accommodate each other, the yard crew should not have to reach over parked engines to uncouple cars on classification tracks. |
| No short runs between staging and the origin or destination. | I want to avoid situations where a crew's entire run is 10' to or from staging. On the former Virginian, the Gap shifter and the C&O Turn were examples of this, and these jobs weren't very satisfying. |
| Significant online industries to provide local switching. | This is a semi-freelance choice, because the Virginian hauled mostly unit trains of coal hoppers. |
| Locale: Preferably Virginia west of Roanoke. | Other choices could be Virginia east of Roanoke (with not-very-interesting scenery), West Virginia (with little opportunity for online industries), or Norfolk (the eastern terminus, where coal was loaded onto ships (also offers some city trackage and industries). |
---
This plan was suggested by Rich Weyand. A narrow folded peninsula yields 133' of mainline and six towns – achieving my goal of relatively long runs between towns.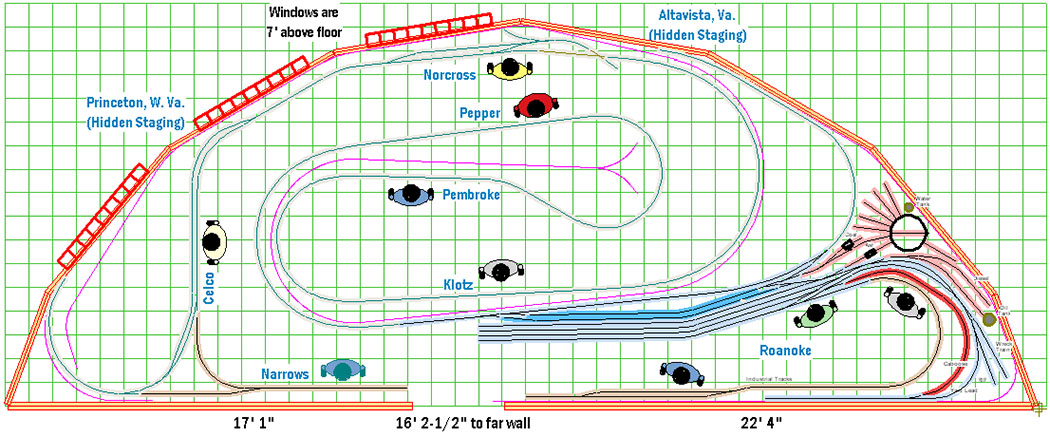 Here are details of Roanoke. The main line eastward to Altavista runs behind a six-track yard (four classification tracks and two arrival/departure tracks). The engine terminal is just east of the yard, and a shallow industrial switching area occupies the space along the wall, still farther east. The yard lead (drill track) curves around into this industrial area, but does not interfere with it.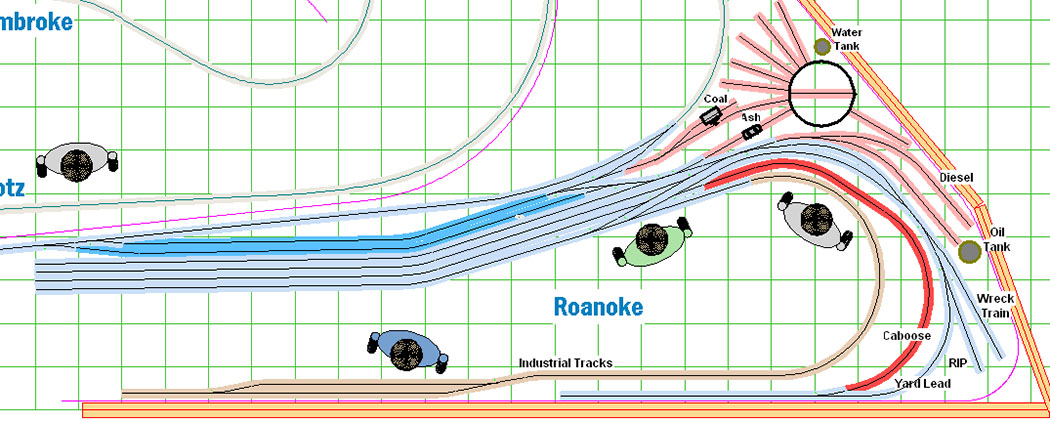 The new yard has four classification tracks, each capable of holding at least 24 cars. The two dark blue yard tracks are arrival/departure tracks. A/D track #2 (top) can handle trains in both directions, but A/D #1 has only a west connection to the main line.
Engines on terminating westbound trains from Altavista can "escape" from A/D #2 by running on the main line to A/D #1, and then to the engine terminal. The main line can be used for such moves because it is within yard limits. Yard limits encompass all blue track, the red caboose track, and the engine terminal track (pink). Within yard limits, all crews are required to run at reduced speed and watch out for obstacles.
The engine terminal is to the right of the yard. It has a turntable with four tracks for steam engines and one for diesels, a coal tower, a water tank (not shown), and an ash pit to service stem locomotives. A diesel service track is shown below the turntale, with a second track to hold cars of diesel fuel to supply the fuel tank (not shown).
The tan track looping from the yard connects with an industrial area along the wall. The light-blue track is the yard lead, which will run behind a building flat in the industrial area. The red track between them is the caboose track.
The spurs branching from the yard lead are a RIP (repair in place) track for damaged cars and a track for the wreck train.
This 3D view shows how the towns are arranged and isolated from each other, and where people will stand facing the track at each town. The benchwork hasn't been drawn, so aisles appear slightly wider than they ultimately will be.
The backdrops are 24" high above the 51" staging track height (other tracks are about 54" above the floor). This puts the top of the backdrop at 75" – comfortably above a 6' person's eye height.
There are nine people in this shot, one at every switching location.This is unlikely to occur during an operating session, but two-person crews will be common, and it looks like the railroad can comfortably accommodate three or four two-person crews.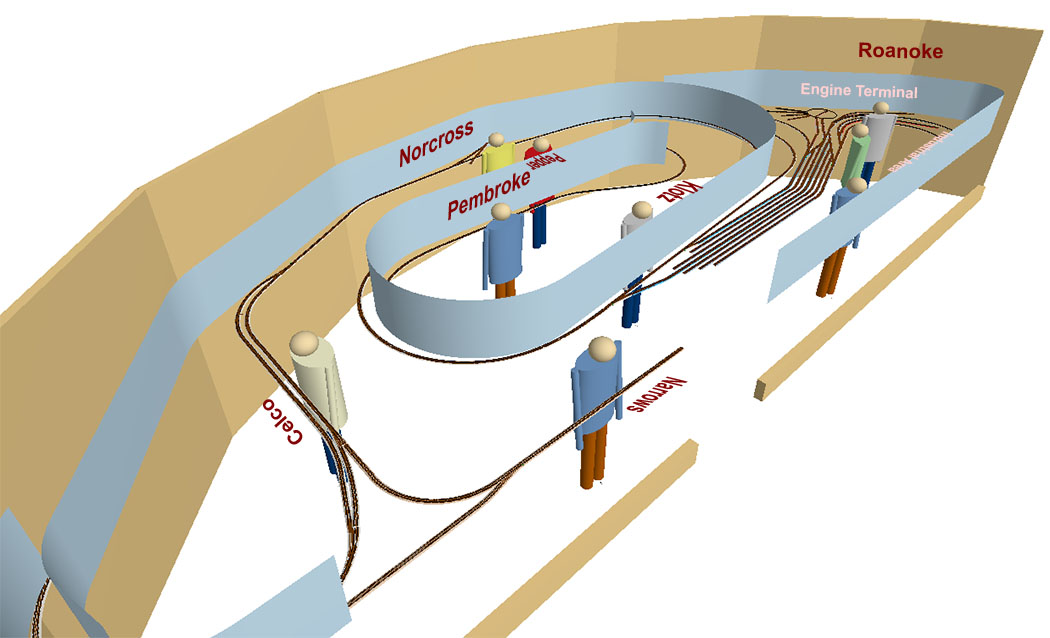 This is a 3D view of Roanoke, with the yard on the left, the engine terminal in the background and the industrial area to the right.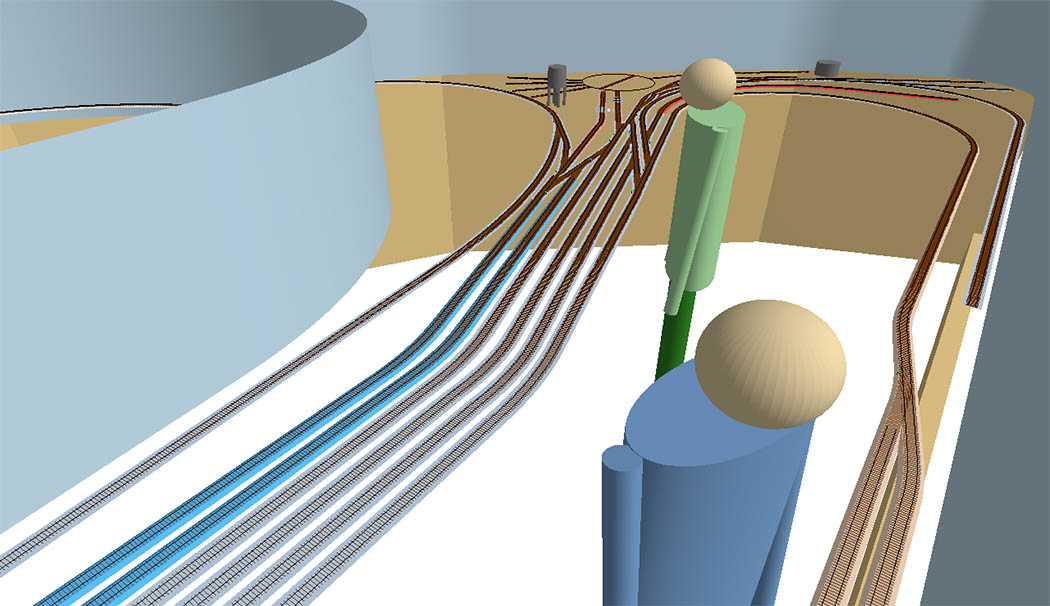 ---
I added orange station signs in the train room, plus some orange tape to show (roughly) where the backdrops will be located. This helps a great deal when wandering around the room trying to visualize how trains will run.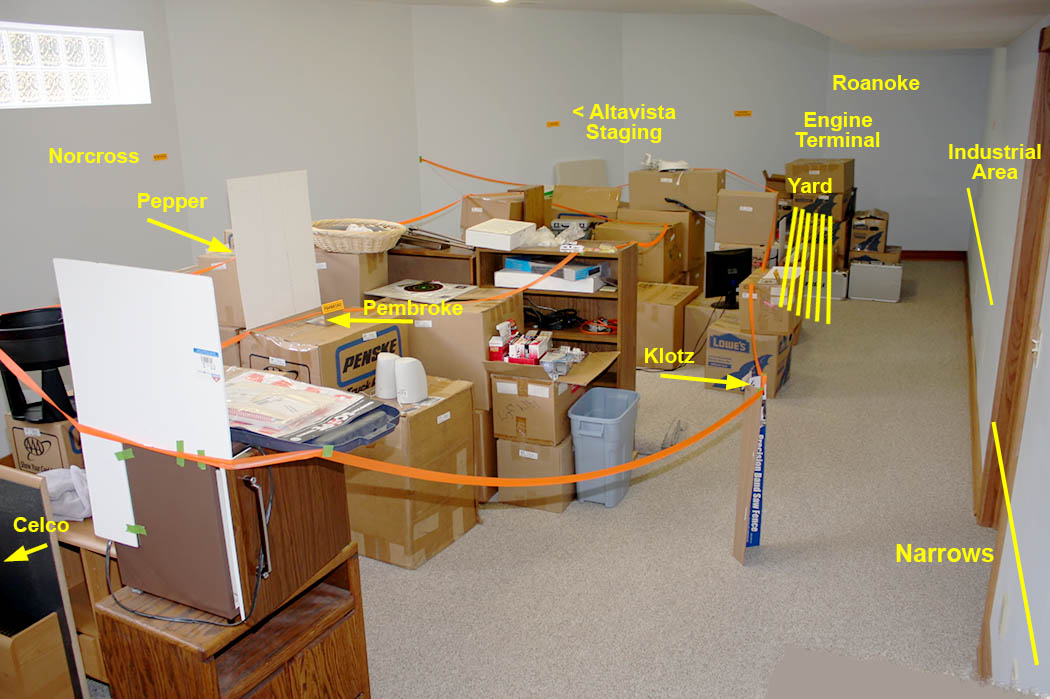 ---
I decided to use inexpensive bookcases and wall shelving to support the benchwork, so I purchased four particle board bookcases and three steel shelving units (the nice design, with tubular legs and shelves that adjust in 1" increments). I also bought standards and brackets for 8' of wall shelving.
This photo from early February 2014 shows the train room with some shelving in place. Many moving cartons have been unpacked, opening up more space in the room. I plan for the top of the benchwork to be 52" above the floor, with the track roadbed supported on risers about 3" high. If this proves too high, I'll lower everything by 2".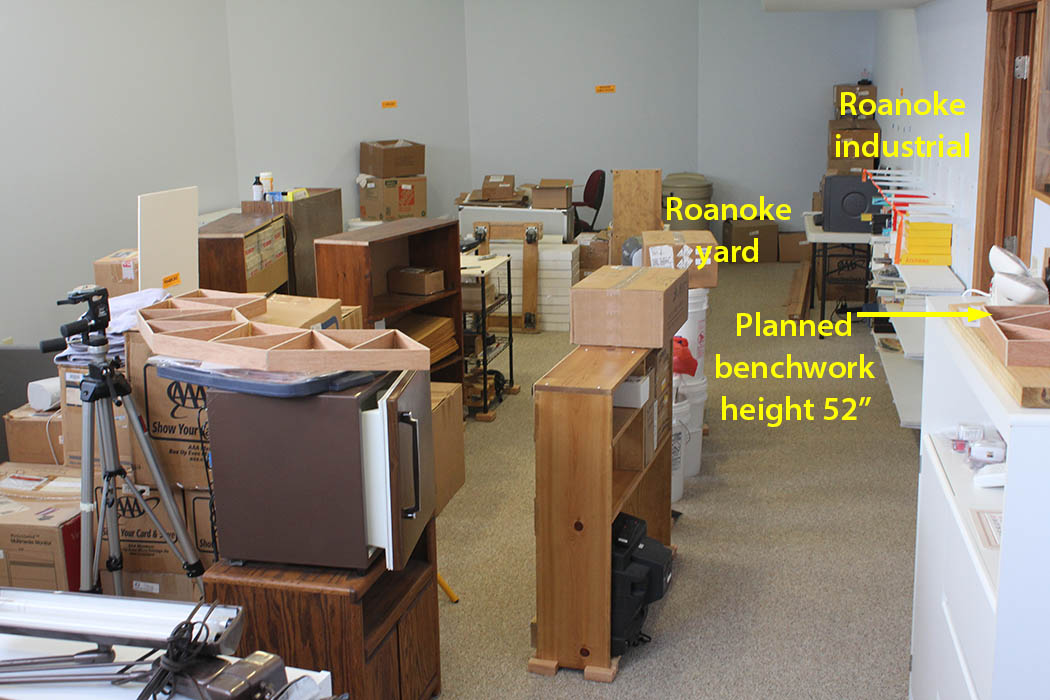 All benchwork will be supported by legs that reach the shelf or bookcase beneath. These legs will vary in height, depending on the height of the bookcase. The roanoke industrial yard (and other towns adjacent to a wall) will be supported by short legs connected directly to the shelf brackets (no shelf on these brackets. All wall shelves for storage will be about 12" below the top shelf brackets.
---
Under timetable and train order operation, the dispatcher dictated train orders by telegraph or telephone to operators in satations along the line. On the prototype railroad, each station had its own operator, but this is not feasible on my model Virginian Ry – one person must fill the role of operator for all modeled stations.
There is a small (4½' x 5') computer network closet located right outside the train room (yellow area in the floor plan). This photo shows the L-shape desk built into the closet. It would be easy to rearrange the beige computer and monitor, and the operator would have plenty of space. Train crews would walk from the modeled station to this office to pick up their orders and clearances.
I will give this serious consideration as the new plan develops.
---
I am toying with the idea of hanging framed photos and other mementos on certain walls above the scenery backdrop. please send me your opinion of this idea.
This photo is a mock-up of how the photos would be hung. The red line shows the approximate track height, and the photo-backdrop is to scale. The top of the backdrop (and view blocks elsewhere) will be 75" – well above eye-level for most people. The bottom of the photos would be at least 2" above the backdrop.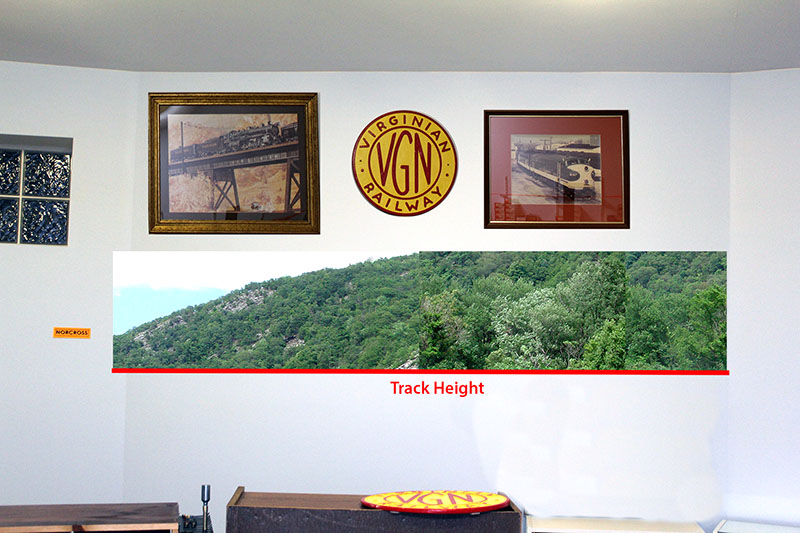 The mock-up above is just east of Norcross, where there will be no space to comfortably view the photos, so photos probably won't be hung there or at similar close-in areas. Two locations in the room give a longer view: The Roanoke engine terminal, and west of Celco where the track loops around to the entrance of the Princeton staging yard. Both locations have high walls that are visible from a distance.
I am interested in your thoughts about hanging photos above the scenery. Please email me at .
---
This table describes the characteristics of each town on the railroad.
Town
Station?
Passing
Purpose
Distance West
Distance East
Altavista
Yes
N/A
Hidden staging yard representing everything east of Roanoke.
14' to Roanoke Yard
N/A
Roanoke
Yes
N/A
Main yard on the railroad.
15' to Pepper
25', west yard entrance to Altvista staging 14', east end of A/D track #1 to Altvista staging
Pepper
Yes
16 cars
A town with a passing siding and one or two small industries for local switching.
10' to Pembroke
21' to next passing siding (Klotz)
15' to Roanoke Yard
Pembroke
No
None
A minor town with no passing siding and possibly only a single industry. The pulpwood facility at the former Eggleston seems like a good choice – a single spur from the main track into the pulpwood yard.

The fact that Pembroke has no passing siding lengthens the run between Pepper and Klotz, and makes Pembroke "invisible" to crews reading the timetable to understand other trains' chedules and meet points.

11' to Klotz
10' to Pepper
Klotz
Yes
16 cars
Home of the Virginian Limestone Corporation quarry. Receives coal for the quarry power plant, and ships dolomite stone.
14' to Norcross
22½' to next passing siding (Celco)
11' to Pembroke
21' to next passing siding (Pepper)
Norcross
Yes
None
Grade crossing with Norfolk & Western (hence the name Norcross). The crossing is protected by an interlocking plant. An automated electronic circuit will change signals while a "phantom" N&W train occupies the crossing.

An interchange track holds three cars, and provides a quick switching job for a local train.

8' to Celco
14' to Klotz
Celco
Yes
16 cars
The Celanese plant here makes synthetic yarn used in fabrics and upholstery.

This location has a reversing loop so the switching crew can turn its engine for the return trip to Roanoke.

14½' to Princeton (staging)
8' to Norcross
22½' to next passing siding (Klotz)
Narrows
N/A
N/A
This is a spur off the main line at Celco into the coal yard for the power plant that supplies power to the Virginian's electric locomotives. The plant building itself will be representated with a photo or structure flat against the wall.

N/A
N/A
Princeton
Yes
N/A
Hidden staging yard representing everything west of Celco.
N/A
14½' to Celco
Crews may receive train orders at towns with stations. Notice that Pembroke and Norcross have no passing siding, making the 20-foot Pepper–Klotz and Klotz–Celco runs challenging. Crews must decide if they can make it to the next passing siding before they are required to clear an oncoming train. Take a look at the trackplan above and the 3D view below to get an idea of the distance and twists and turns between these towns.
---
This string diagram shows the trains that might run during an operating session. I'm sure many variations are possible, and I welcome your ideas.
This diagram is out of date, now that Salem (West Yard) has been replaced with the Roanoke main yard, as described above.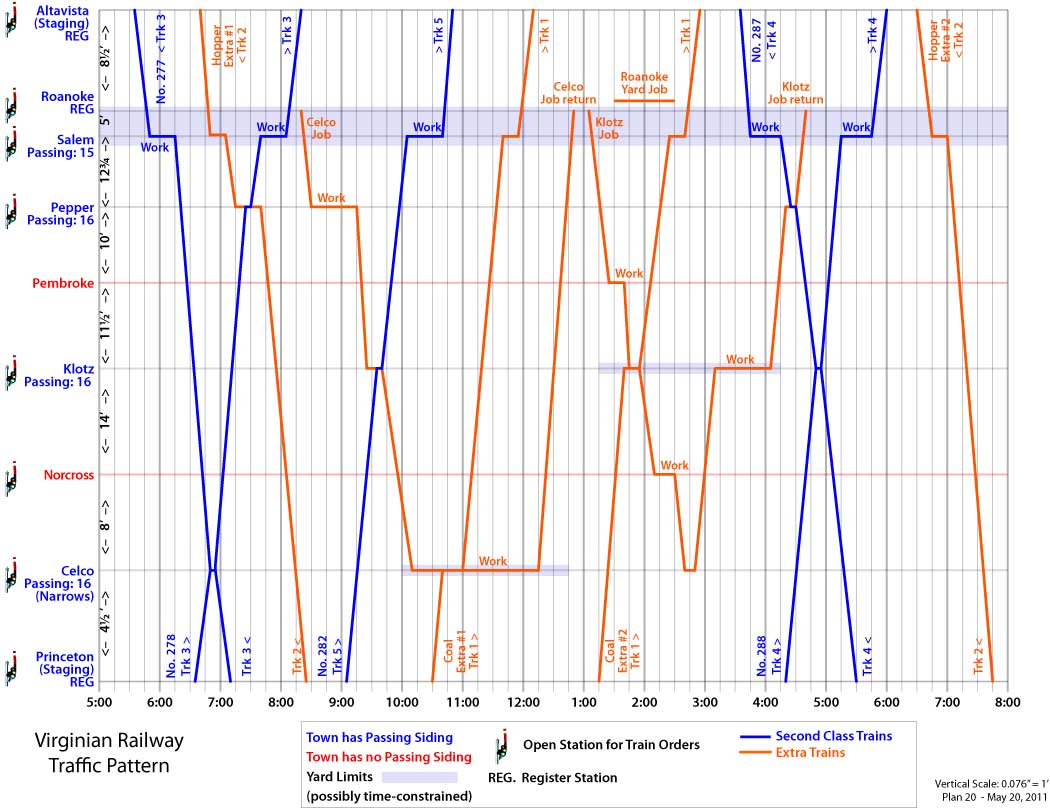 Please send your comments and opinions to .
---