The Virginian Railway ran from Deepwater, W. Va. through Roanoke, Va., and on to Sewalls Point (Norfolk). It was built to haul coal out of the West Virginia fields to the Atlantic coast, for loading on ships. I am modeling a small area in Virginia, west of Roanoke, between Pepper and Glen Lyn (circled on the overview map).
I also model a freelanced (fictitious) general-freight division which runs from Danville, Va. through Radford, to join the real VGN mainline at Pepper. At Glen Lyn - where the real Virginian crossed the New River into West Virginia on a 2,155-foot bridge - I added a freight yard beneath the bridge, and a mainline that continues down the New River to interchange with Chesapeake & Ohio Railway at Hinton, W. Va.
Scroll down to see a schematic diagram of the modeled railroad.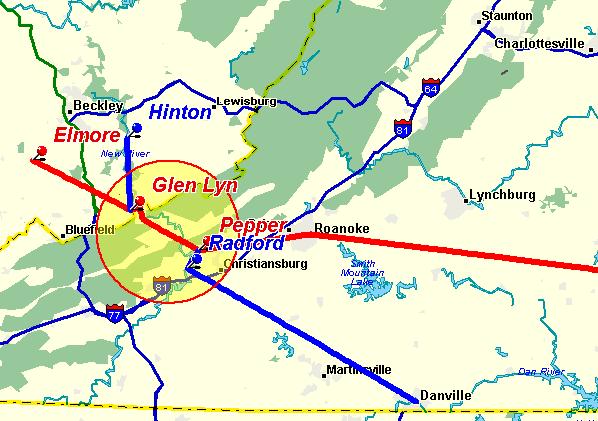 ---
Schematic Diagram of Model

Theme: The Virginian Railway (VGN) hauled coal from West Virginia through Roanoke, Virginia, and on to Sewalls Point, from 1907 through 1959, when it was taken over by the Norfolk & Western Railway. It was a heavy-duty railroad characterized by unique steam locomotives, powerful electric and diesel engines, and long coal trains.

Goal: Model the Virginian, but with more than coal trains. I added fictitious Fifth (Hinton) and Sixth (Danville) subdivisions to increase merchandise freight traffic. By following the New River, the railroad bypasses the mountains of West Virginia and offers a high-speed route to the west.

On this diagram, red lines and names represent the actual VGN line, while blue represents the freelanced (ficitious) routes. What follows is a brief description of each location on the layout.

Elmore, W. Va. is a hidden staging yard where coal trains originate and empty hopper trains terminate. Trains enter the modeled railroad and cross the New River on a long bridge at Glen Lyn.

Hinton, W. Va. is a staging yard that represents the Fifth Subdivision, and an interchange with the C&O Railway for general freight traffic.

I modeled a freight yard beneath the bridge at Glen Lyn to handle the merchandise traffic from Roanoke and Danville.

Rich Creek is modeled as a junction where the Fifth Subdivision joins the Third Subdivision mainline.

At Narrows is the electrical generating plant that supplies power for Virginian's electric locomotives.

Klotz is home to Virginian Limestone Corp., the source of the railroad's track ballast.

The American Celanese plant at Celco makes synthetic fibers. This is a major industry that deserves a local train from Glen Lyn to switch it once a day.

Pepper is where the Third Subdivision leaves the New River for Roanoke, and where the Sixth Subdivision connects.

Roanoke is a hidden staging yard for coal traffic. One track is reserved for Valley Gypsum Co. at Gold Bond.

At Eggleston, American Pulpwood supplies paper mills elsewhere in the Old Dominion.

Radford is a major city with two large industries and a team track. Scholastic Publishing prints textbooks and school yearbooks, and New River Safety Supply manufactures fire extinguishers. A wye allows local trains to turn for the return trip to Glen Lyn.

Danville is a staging yard representing the Sixth Subdivision, and a gateway to the south.