I'm designing my own operational forms, based on actual Virginian forms, but slightly modified for model use. Here's what I've done so far, using Adobe Illustrator on my personal computer.
Crew Call Sheet
The call board is a simple wooden frame that hangs on the wall near the Station Operator. For each operating session I print a fresh copy of this form and insert it into the frame, so crews can sign up for the positions and trains they want.
The "must-have" positions are listed first. There are spaces for two people to mark up for each position, and there are morning and afternoon times, in case someone wants to do something else for part of the session. The AM/PM dividing line is dotted, so one person can sign up for the entire session, which usually is the case.
Trains are listed by their timetable numbers or, for extras, by their common names. A brief description helps people choose the type of work they like best. The call time is about one fast-time hour (15 real minutes) before the departure time, so the crew can collect their throttle and paperwork, and look over the timetable. Spaces are provided for an engineer and conductor, should two people want to work together (especially helpful for new participants).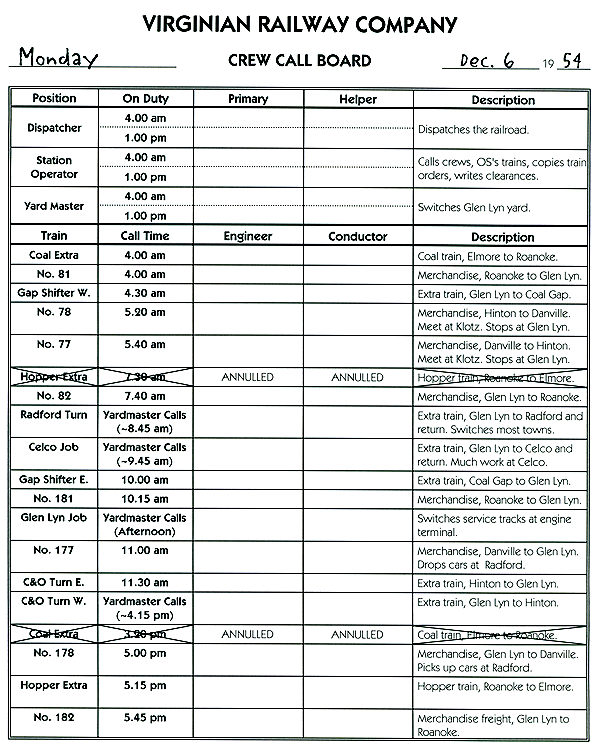 ---
Click here to read about some big changes in train orders and clearances! (use Back button to return here).
Form 19 Train Order
Train order forms and the clearance form measure 4" x 5-1/8". This size is large enough for an operator to easily copy an order dictated by the dispatcher over the telephone, while still small enough to fit in trackside boxes and operators' pockets. A local print shop photocopied and cut 2,000 of these and 2,000 clearance forms, and I made pads of 100 using "padding cement" and a simple clamp.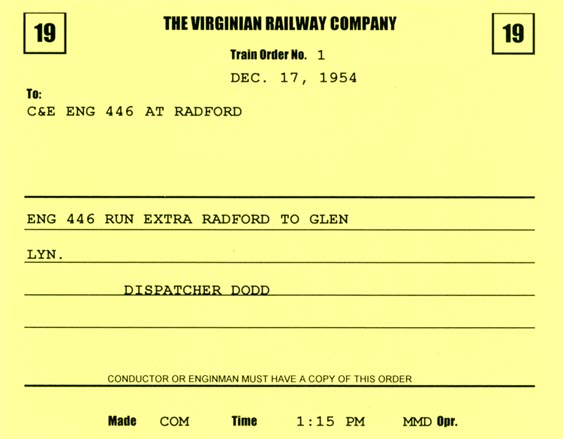 Look at this! I bought a 1954 Virginian train order on the Ebay online auction. Several months later, I ran across another one, offered by someone else. When I compared them, I discovered they are the same order, written on the same day, but copied at two different stations! One was copied at Pembroke and the other at Whitethorne, where the clearance (4th photo below) for Extra 125 West was written.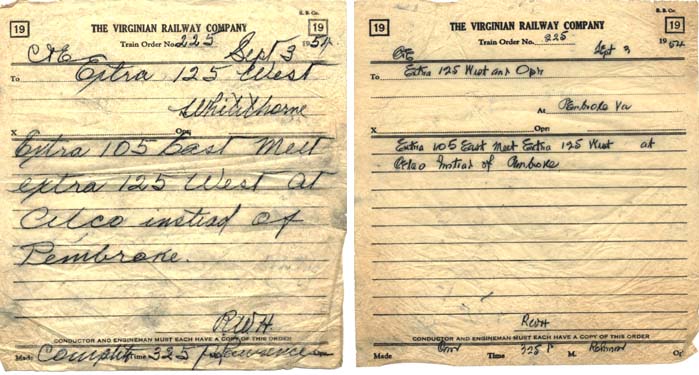 ---
Form 31 Train Order
Crews must stop and sign for Form 31 orders, so there is a space for this at the bottom. Consequently, the top area is more cramped. We don't use Form 31 orders. Crews stop at stations for Form 19 orders.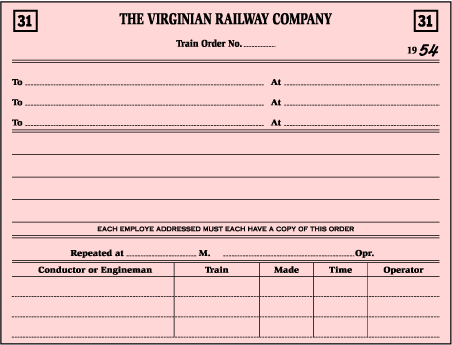 ---
Clearance Card
Nobody leaves without a clearance card! I patterned my yellow one as closely as possible to real one shown here, even though it's a bit plain. Notice the tiny Virginian Railway Co. heading, and the missing "A-in-a-box" commonly found on clearance cards.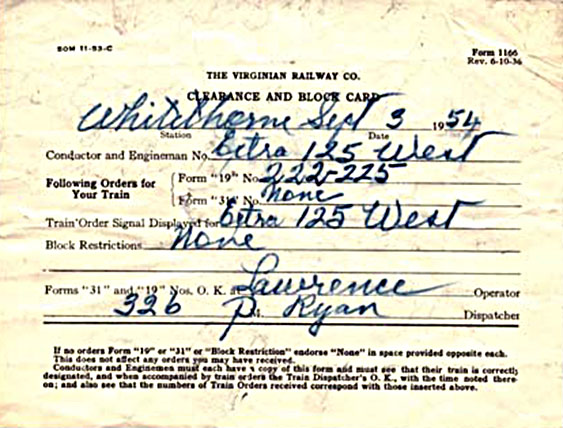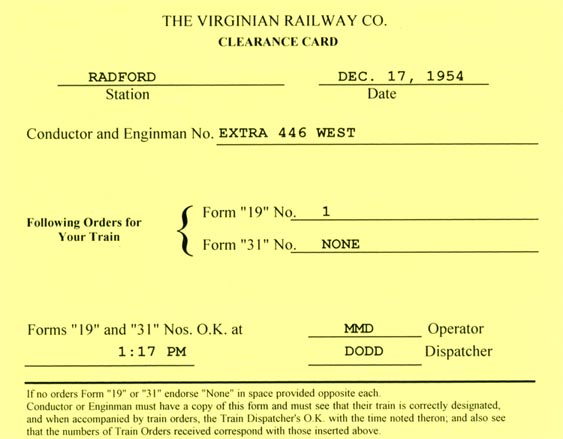 ---
Train Register
Train crews enter information about their trains in a train register as they pass through certain towns (on my railroad, register stations are Pepper, Rich Creek and Glen Lyn, plus all staging yards). Other crews check the register to ensure that all superior trains have, in fact, passed. The form is printed on both sides to accommodate all the trains in an ops session.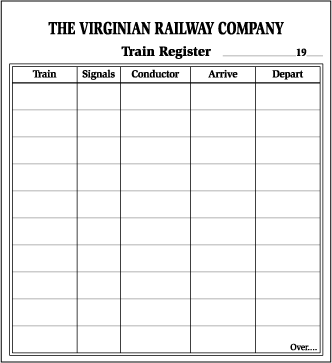 ---
Switch List
I provide this blank form for operators who like to plan their work with a switch list.