The Celanese Corporation of America makes acetate filaments near Narrows, Va. Shortly after opening in December, 1939, the plant employed 103 staff members and 766 hourly employees. By 1948 there were about 600 staff and 4,000 hourly workers.
Known on the Virginian as Celco, my HO scale model of the plant is 14 feet long and has five unloading spots. At the moment, the buildings are simple mock-ups that I printed on my computer; they eventually will be replaced with thin-profile models. The acid tanks are unpainted lengths of plastic pipe, which will later be painted and detailed.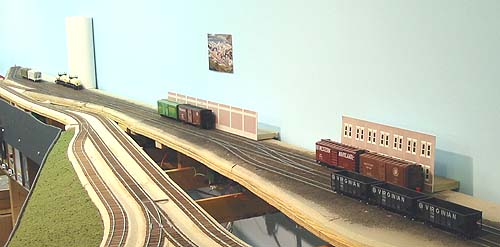 One local train, known as the Celco Job, runs from Glen Lyn to Celco each day with 10 or 11 cars. Because there is no passing siding there, the entire train must pull into the plant and do all the switching while clear of the main line. You can get an idea of the track arrangement from the track plan and the schematic diagram. I've provided plenty of drill track, but some moves require running around cuts of cars on plant tracks. The Celco Job is an enjoyable assignment, from all accounts.
The track in the foreground is Pepper, just east of the Celco switch (visible in the extreme left of the photo). Pepper is where the Sixth Subdivision from Danville joins the Third Subdivision from Roanoke, and is not part of Celco.
---
This is the Celco fascia panel, showing turnout toggle switches, track diagram, telephone, and waybill boxes. Mainline turnouts have a red light next to their toggle switch, to indicate when the switch is thrown away from the mainline. The light in the center of this photo is on.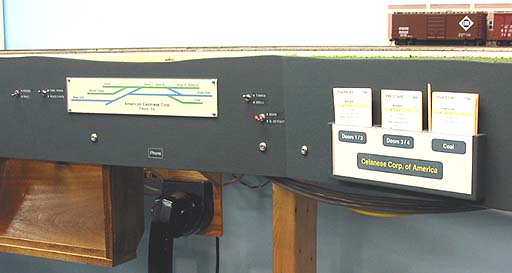 ---
Here's a closeup of the small track diagram attached to the fascia.