Update: Cabinets and vanities
Old River Cabinets (sadly, bankrupt in 2012) is building our kitchen cabinets and bathroom vanities, and Eco Marble and Granite is supplying the granite counter tops.
November 29, 2010 – Or Not

Old River Cabinets just notified us – late in the afternoon of the day before the scheduled installation – that due to "problems at the factory," installation will be delayed six days, until December 6. Needless to say, we are not pleased.
December 6, 2010 – Another Delay

Old River Cabinets called to say that they can't make the rescheduled delivery date. It's now set for Thursday, December 9.
December 9, 2010
Finally – after rescheduling twice at the last minute – Old River Cabinets delivered and began installing the kitchen cabinets. The bathroom vanities are scheduled to be delivered tomorrow.
Meanwhile, Mike assembled six inexpensive white cabinets for installation in the workshop after it's painted.
Here are some of the kitchen cabinets, made of lyptus wood.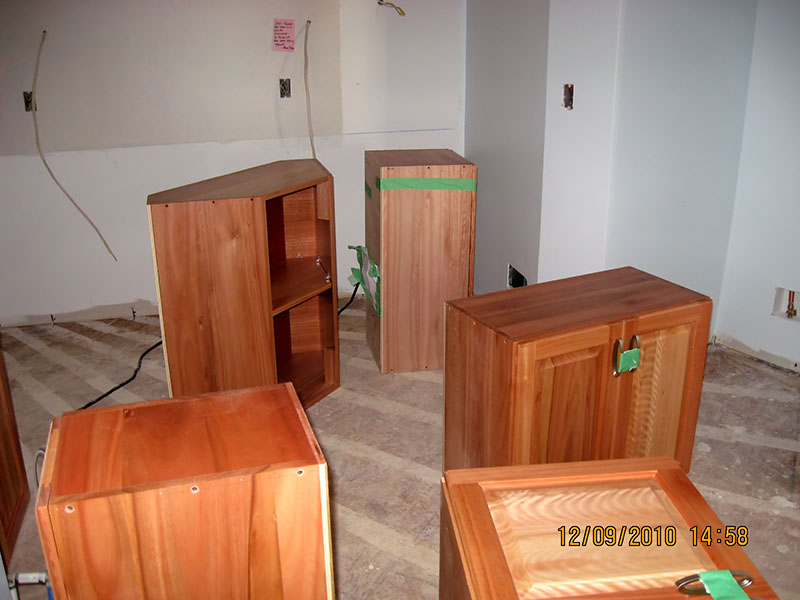 December 10, 2010
The installers hung more kitchen cabinets and started on the bathroom vanities. The lyptus wood kitchen cabinets are 80% installed.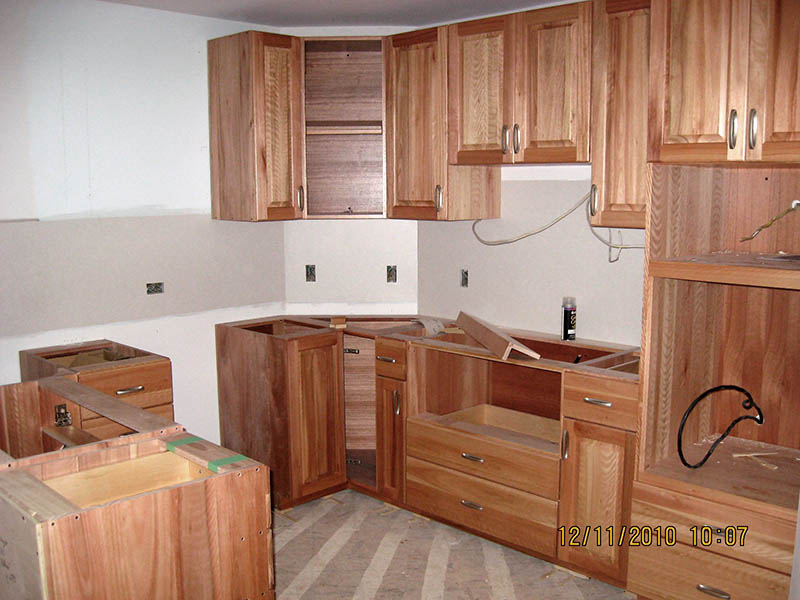 Here is the hickory master bath vanity.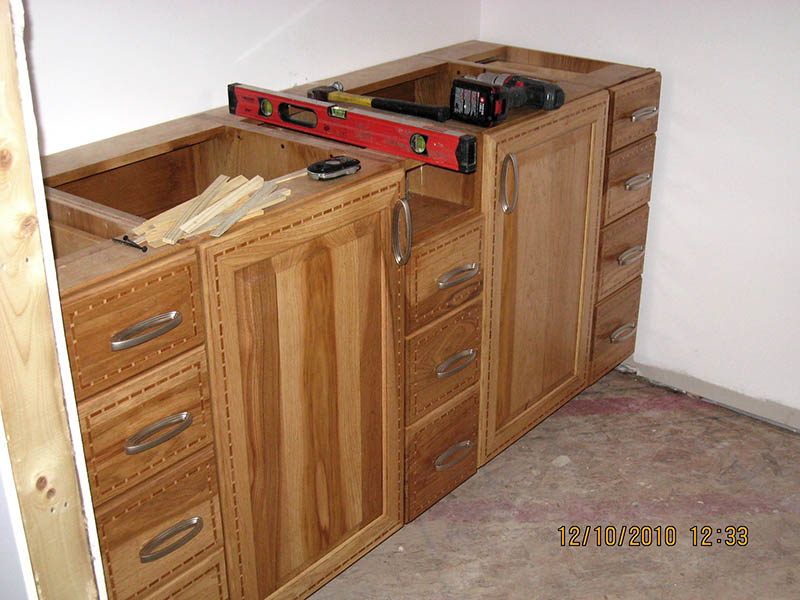 December 14, 2010
The granite company sent a "templater" who measured and made wooden templates for tops on the kitchen counter and bathroom vanities.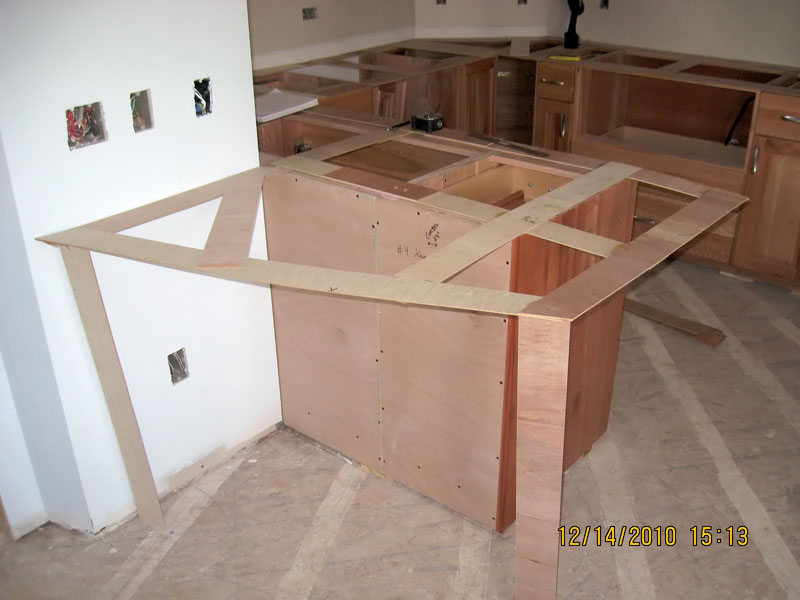 December 17, 2010
We ordered the granite counter tops today.
December 18, 2010
Mike cut holes for electrical outlet boxes in the sink base and microwave cabinet.
December 28, 2010
The granite fabricator delivered the kitchen and bathroom counter tops and spent the day installing them.
We had to perform some surgery on the bathroom vanities to allow the sink bowls to fit, using power saws and a router. It was a messy job – sawdust everywhere – but ultimately successful.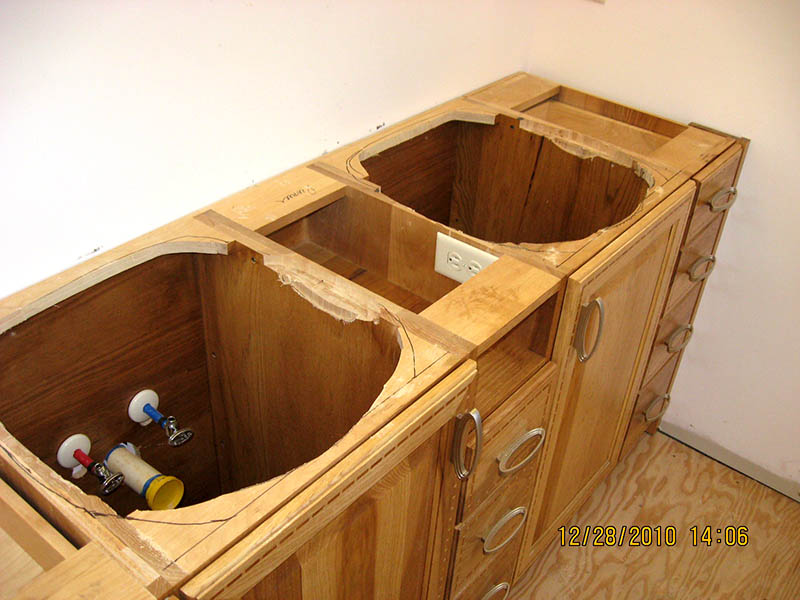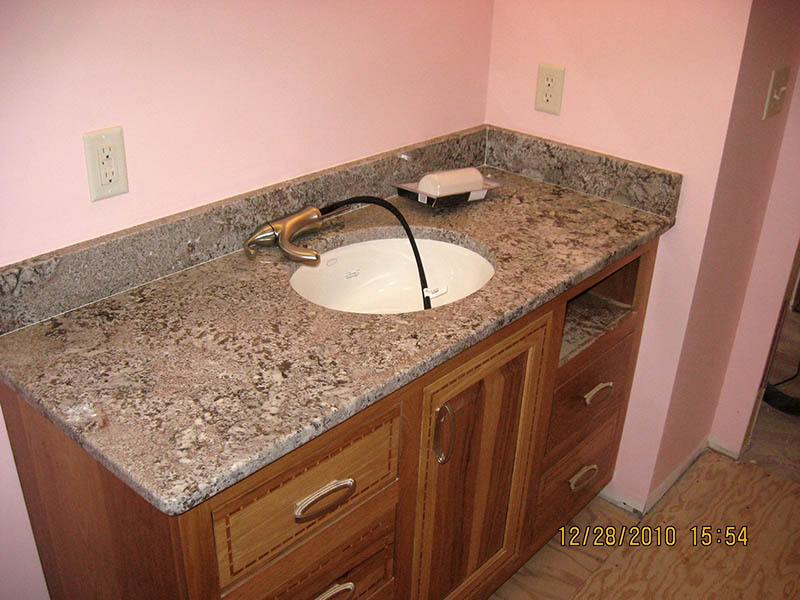 December 29, 2010
The cabinet installer returned to put up the kitchen cabinet crown moulding, and to make various adjustments to the cabinets.
January 3, 2011
The cabinet installer returned to make final adjustments to the kitchen cabinets.
This is the kitchen at the end of the day.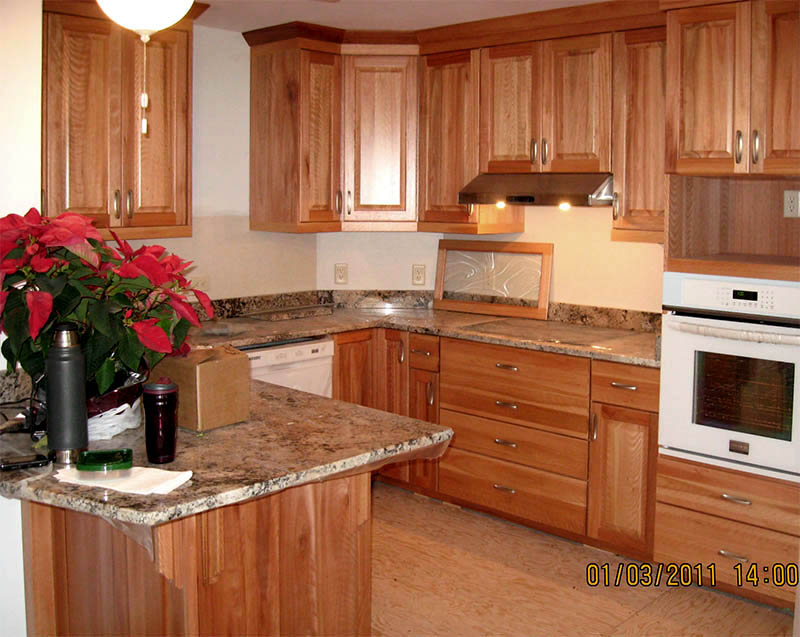 October 10, 2016
After 5½ years, we finally installed a tall cabinet and a shelf in the mud room. The cabinet stores cat food, sodas, and other items formerly kept in the pantry.
The shelf will hold Louise's purse, cell phone and charger, and miscellaneous clutter now collected on a kitchen counter.

---
Updated November 14, 2017