Project: Observatory – Floor
August 25, 2017 – Buying materials
We spent much of the day at Lowe's buying the materials we need to install a floor over the deck plywood, and then to erect the prefabricated wall sections. We bought:
168 square-feet of sheet vinyl floor covering, adhesive, and a slotted trowel to spread it.
Five sheets of 5mm underlayment plywood to lay on top of the ¾" deck plywood, to provide a smooth surface on which to lay the sheet vinyl.
Ten sheets of 3/8" plywood to sheathe the walls after they're erected. We will lay the sheet vinyl first, then install the wall sections over it. This eliminates fitting the vinyl to an enclosed interior space – important because the walls won't have baseboard to cover any irregular edges.
An entry lockset for the door, which must be installed soon after the walls are erected.
Various 2x4s for the roof, which will be assembled on top of the walls.
August 26, 2017 – Floor vinyl laid
Mike began nailing down 5mm plywood underlayment while Louise made a 65-mile round-trip to rent a 100-pound roller to flatten the vinyl floor covering after we lay it.
When Louise returned with the rented roller, we both set to work cutting and nailing the remaining underlayment. We used about 4½ sheets of plywood. We knocked off at 4:00 pm, with the floor ready for the sheet vinyl.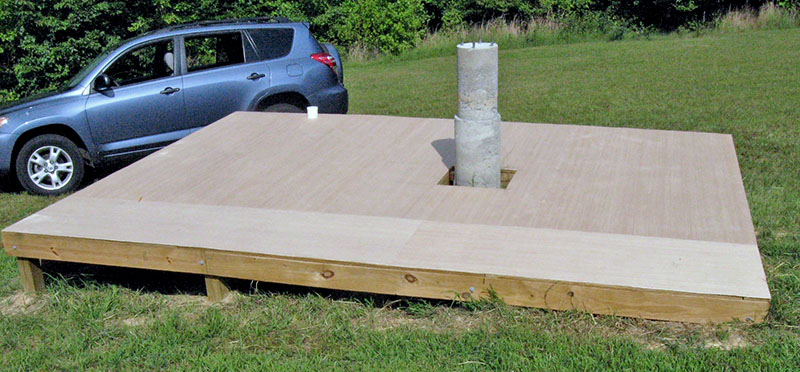 At 6:00 pm we returned to install the 12'x14' sheet vinyl floor covering. First we measured and cut a square hole for the pier opening, and a 3½" round hole for the cable conduit near the computer location.
With the holes cut and the vinyl accurately positioned, Louise folded back a section, and Mike troweled adhesive onto the plywood underlayment. This was tedious and time-consuming, but all went well. Finally, we rolled the heavy roller over the entire floor to remove any bubbles under the vinyl, and press it firmly onto the adhesive for a good bond. We covered the floor with a tarp, and finished today's work around 9:00 pm.
August 27, 2017 – Floor complete
This morning we trimmed off the excess vinyl around the deck, and inside the square pier hole. Here's the result.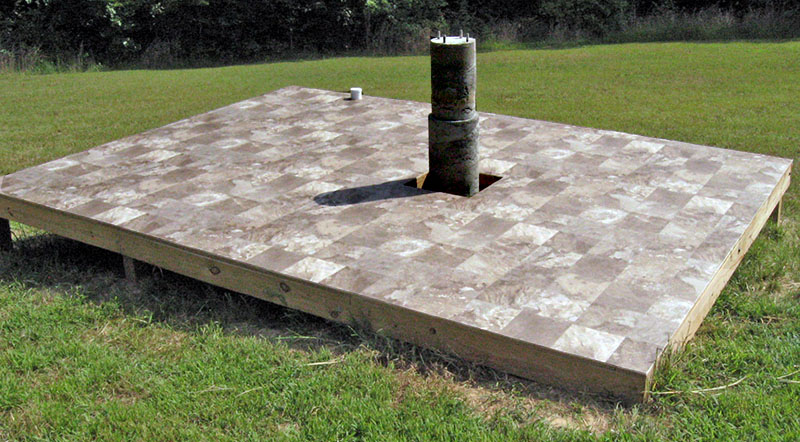 ---
Updated November 14, 2017